Waterfront - Entertainment & Education - For the Kids - In the Area
"Meet me at the dock..."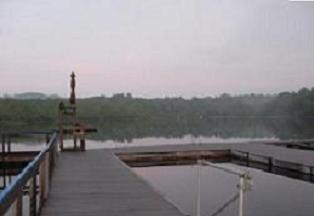 That's a common refrain all summer. Three Arrows just wouldn't be Three Arrows without the waterfront, which is staffed by lifeguards most summer days.
The dock itself offers something for everyone: A large shaded seating area provides a relaxing place to socialize with your neighbors. A shallow pool-like "crib" makes it possible for even the smallest children to enjoy the waters of Barger Pond. A larger "crib" up to five feet deep offers a safe swimming area for older kids. And then there is the Pond itself, with a roped-off section anchored by a floating dock for adult swimmers and kids who have passed the lake test (a right of passage for Three Arrows' youngsters).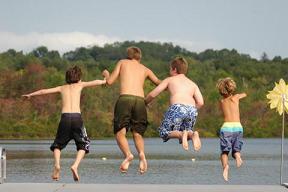 Add to that canoes and kyaks for exploring the far reaches of Barger Pond, and you can see why everyone gravitates to the Pond in the summer.
There are a set of regulations, of course, to keep everyone safe at the waterfront. Please take a look at the Waterfront Rules before enjoying the dock.