Waterfront - Entertainment & Education - For Families - In the Area
Activities for you and your Children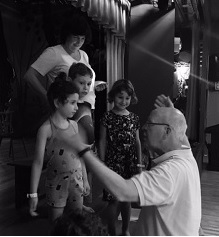 Children and families are an integral part of Three Arrows. With more than a dozen young people in the community ranging from newborns to teenagers, we welcome a diverse range of families.
Swimming in Barger Pond, playing community-organized sports, and playing with other children are some of the experiences children and families enjoy.
Highlights

Swimming - children of all ages especially love Three Arrows for its access to Barger Pond with its dock for swimming and socializing. Canoes and rowboats are available for co-op members to use. The pond is a focus point for Three Arrows members to relax and connect with each other.
Friendships - adult members say that the friendships they made as children at Three Arrows were the highlights of their childhood. Many of these friendships have endured for decades.

Other ways for families to enjoy Three Arrows include: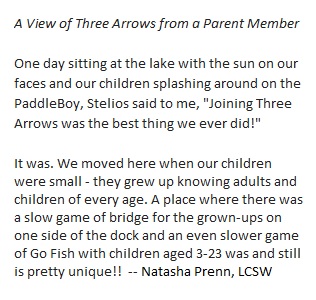 Community theater with parts especially designed for children. Since its inception, Three Arrows has had a special relationship with the performing arts. Many of the community's founders were involved in professional theater. This tradition continues with the annual Labor Day Show, a performance written, directed, and acted by community members. Children are enthusiastic participants.
A warm, welcoming atmosphere for children and families.
Games: family sports events such as softball and kickball games are regularly organized and children are encouraged to participate.
Arts and crafts: the community boasts some skilled artists and craftsmen among its members and arts and craft workshops are held on a weekly basis during the summer.
Special musical performances for children: concerts are regularly held at the community's social hall during the summer and these are a great way to foster children's interest in music. In addition, some performances have a special component intended specifically for children.
Annual summer art show in which children are encouraged to participate: the annual Three Arrows art show is a highlight of the summer for creative types, and the work of children is solicited and admired.

See the In the Area page for links to hiking trails, historic sites, and other activities of interest to families.






Photo: Rehearsing some of the youngest members for the Labor Day Show