Waterfront - Entertainment & Education - For Families - In the Area
Saturdays Nights at the Social Hall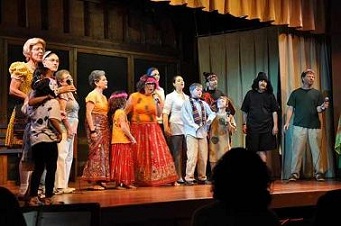 The dock is the place to be during the day, but on Saturday nights in July and August, you will always have something to do. Banish ideas of boring country life watching the grass grow! Come down to the Norman Thomas Social Hall to hear a jazz ensemble, work off extra pounds at a square dance, be surprised by a Balkan band's middle eastern inflections, or have a glass of wine while enjoying a poetry slam or a cabaret performance.
The grand finale of every summer is the famous Labor Day Show, where we locals get our chance to demonstrate our talents as performers, designers, writers, and musicians. It's the best camp show you'll ever see!
Schmooze with Us
Friday nights (also in July and August) are a somewhat more serious affair. Expert guest speakers (from "The City" and from among Three Arrows' members) lead discussions on a wide variety of topics. We have had notable fiction writers, philosophers, forest rangers, a vet, policital commentators, and a host of other interesting people for the weekly schmooze.
Movies, Potluck Suppers, Workshops, and More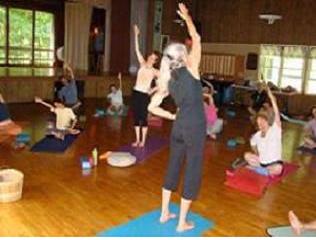 Summer weekends offer many day-time activities as well, including yoga, movement class, chorus, arts and crafts workshops (we have our own potting shed with kiln) and the occassional multi-generational softball game. Many members get physical on our clay tennis courts.
If you're lucky enough to be at Three Arrows during the week in the summer, many more activities await you.The Three Arrows Film Festival presents recent and classic films chosen by an august committee, potluck suppers, and the popular Writers Workshop.


Photo top: The famous Labor Day Show; photo bottom: Yoga classes are held every weekend.