Property Details - Membership
Come Experience a Three Arrows Summer!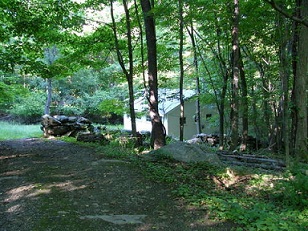 Three Arrows is located in Putnam Valley, just 45 miles north of Manhattan and 2.5 miles from the Taconic State Parkway. The nearest towns are Shrub Oak and Jefferson Valley, both part of Yorktown.
Three Arrows maintains four rental properties primarily to introduce prospective members to the community -- and the community to prospective members. The properties are available Memorial Day through Labor Day, and priority is given to rentals of a month or longer.
There are two 2-bedroom bungalows, an apartment (1 bedroom, 1 bath), and a studio bungalow. All units have complete kitchens and are fully furnished except for linens and towels. See the Rentals Details for pictures and specific information on each property.
We encourage renters to make use of all of Three Arrows facilities and to attend the many social activities. Renters can also actively contribute to the community by assisting with social events, helping at the dock, leading activities, or in other ways.
Rental reservations are accepted beginning April 1 for the following summer. It usually is not possible to see the properties before then because of lingering ice and snow and the ensuing mud season. We also cannot show properties when they are occupied by renters. View property details.
If you would like to see these rental units, email: rentals@threearrowsco-op.org, to make an appointment. Click for directions to: 2 Rochdale Rd., Putnam Valley, NY 10579
Photo: The lower bungalow seen from its private driveway