Property Details - Membership
Come Experience a Three Arrows Summer!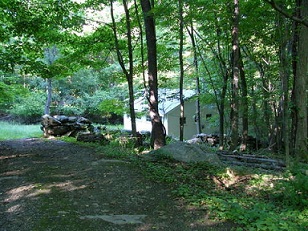 Three Arrows has four properties available for rent to introduce you to our community and all it offers.
There are two 2-bedroom bungalows, an apartment (1 bedroom, 1 bath), and a studio bungalow available from Memorial Day weekend through Labor Day weekend. All units have complete kitchens and are fully furnished except for linens and towels. See the Rentals Details for pictures and specific information on each property.
We invite you to participate in all that Three Arrows offers while you are renting here: lake swimming and boating, tennis, Thursday night Potluck dinners followed by a movie at the social hall, arts and crafts workshops on weekends, yoga, and Friday and Saturday night social activities. You can also enjoy all of Hudson Valley with Three Arrows as your base. We encourage you to become involved in day-to-day life at Three Arrows in any way you like!
Three Arrows is located in Putnam Valley, just 45 miles north of Manhattan and 2.5 miles from the Taconic State Parkway. The nearest towns are Shrub Oak and Jefferson Valley, both part of Yorktown. Shopping and restaurants are easily located nearby.
Rental reservations are accepted beginning April 1 for the following summer. Priority is given to rentals of a month of longer. We can arrange a showing of the properties for you in the spring. View property details.
If you would like to see these rental units, email: rentals@threearrowsco-op.org, to make an appointment. Click for directions to: 2 Rochdale Rd., Putnam Valley, NY 10579
Photo: The lower bungalow seen from its private driveway